by Stan Owens, Division Vice President; Greg Valatka, Director of Operations; Melissa Wright, Quality Engineer, Chemical Products, all from United Pet Group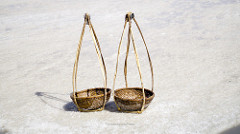 Since the development of Instant Ocean sea salt in 1964, it has grown to become the standard synthetic sea salt formula, used by more aquariums both large and small around the world. Its beginnings stem from a desire to provide a viable alternative to natural seawater — one that not only kept organisms alive, but also enabled them to reproduce and thrive.
Whereas it might seem the most logical solution for keeping healthy fish, natural seawater that is clean of pollutants and sand is hardly accessible to the masses. Today, the most successful and well-known synthetic salt is Instant Ocean. After more than 40 years of research and usage in home and public aquariums, as well as research institutions, it has proven to be the scientifically-based synthetic sea salt in which fish and invertebrates can grow and prosper.
The Science Behind Instant Ocean
Instant Ocean is a homogeneous mixture that is fast-dissolving and produces a close match to natural seawater, but with increased buffering ability and a low total organic carbon concentration.
Remarkably, the salinity and chemical composition of major ions in natural seawater is essentially similar throughout the world's oceans. Generally, one formula for synthetic sea salts works for varied aquarium dwellers, as they are equipped to live within tanks that adhere to very small ranges in chemical values.
Synthetic sea salts are made up of compounds like sodium chloride or magnesium chloride. When added to water, they dissolve into cations (positive charged ions) and anions (negative charged ions) at concentrations meant to mimic natural seawater. There are also a number of trace elements, and it is at the discretion of manufacturers to determine the best mixture for simulating a natural environment and providing customers with what they need for their aquarium.
Ultimately, Instant Ocean aims to stand out in three characteristics of a quality synthetic sea salt:
Choice of chemical compounds — Continuous monitoring of ammonia-free raw materials for quality and consistency. This ensures that seawater made with Instant Ocean today will be the same with every water change.
Dissolvability — Quick-dissolving formulation that doesn't rely on lower quality chemicals or wide deviations from the composition of natural seawater. This enables customers to have a fast-acting solution that performs as it should.
Homogeneity of mix — An assurance that every bag of Instant Ocean is consistent. This results in Instant Ocean's continued dedication to the following: If it doesn't meet our standards, it doesn't make it to customers.
How Do They Do It
The actual manufacturing process is just as important as the science behind creating Instant Ocean. In order to achieve its homogeneous, well-packaged and competitively-priced product, manufacturing must ensure that chemicals are clean, uniform in size, mixed in the right amount and packaged with efficiency.
Very recently, the company moved its manufacturing facilities to Blacksburg, Virginia, where its parent company, United Pet Group, has its principle chemical manufacturing center. The over 200,000 square foot facility features all new, stainless steel, pharmaceutical-grade equipment. Also, the company has a state-of-the-art, temperature-controlled laboratory dedicated solely to testing salt. This is where quality control is maintained through regular sampling and analysis. In making this manufacturing move, the company's goal, given its long history, was to maintain and strengthen its trusted brand name in the market. Its mission remains to provide a consistent and reliable product to customers.
Over the years, and leading up to the move, modifications have been made in order to remain at the forefront of manufacturing innovation. Perhaps the most significant investment was in upgrading to computer-controlled processes. Every ingredient is now weighed on a digital scale and added by computer-controlled valves to ensure that each batch of Instant Ocean is exactly the same mix. The updates have also improved overall flexibility in manufacturing to efficiently meet customers' orders, without compromising on quality.